NLPCC 2020 Hotels Recommendation
News: There is a shortage of hotel rooms. We can't guarantee there remains a room after September 30.
NLPCC 2020 recommends the following hotels. You can also reserve other hotels by yourself. You will pay for all of your hotel cost yourself.
How to Reserve the Recommended Hotels?
◆ Reservation time: From now to September 25, 2020, as soon as possible. Your reservation will not be accepted afer this day.
◆ Contact: Yingjie HAN(韩英杰), Email: ieyjhan@zzu.edu.cn, Mobile Phone: +86 13673712578
◆ Fill your reserving information according to THIS TABLE, email it to Yingjie HAN(韩英杰). In the reservation table, we suggest you choose your preferred room type: Standard Room(2 Beds) or Standard Room(1 Big Bed). We will do our best to satisfy your need if the hotel has enough rooms. If hotels have no enough proper rooms, we have to accept rooms they have.
Hotel Recommendation List and Map
(1) Hotels for NLPCC 2020 Main Conference
| | | | |
| --- | --- | --- | --- |
| Hotels | Room Type | Check in~out Date | Discount Price(RMB ¥) |
| GLORY HOTEL (光华大酒店) | Standard Room (2 Beds) (标间) Standard Room(1 Big Bed) (大床房) | October 16~18, 2020 | 298(Breakfast incl.) |
(2) Map for Hotel and NLPCC 2020 Venue
GLORY HOTEL (光华大酒店) is the venue of NLPCC 2020 Main Conference.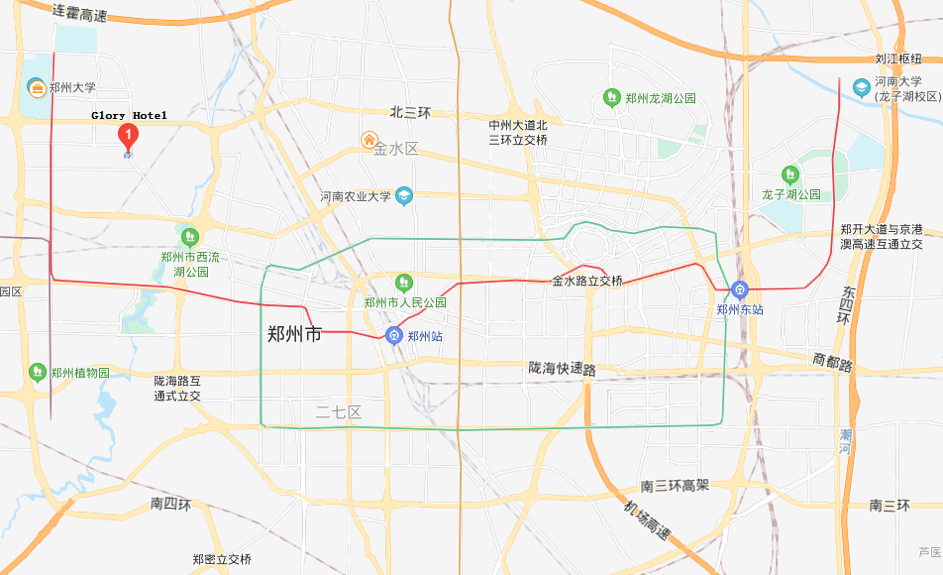 NLPCC2020主会场-光华大酒店位置图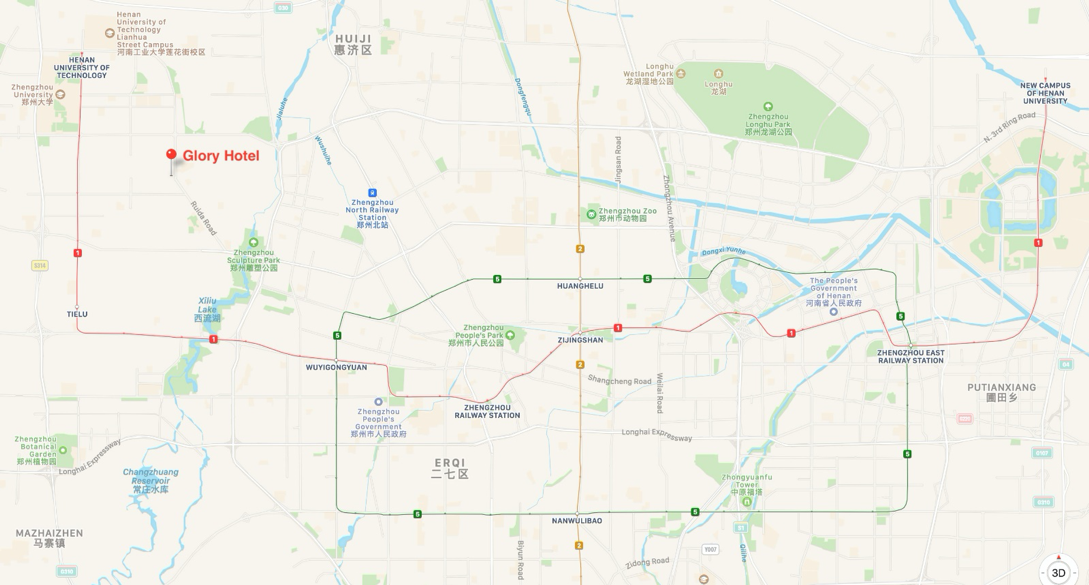 Map for NLPCC 2020 Venue
From Xinzheng Airport to Glory hotel is about 59 km, taxi fare is around 150 RMB, Public traffic route: Airport express NO.4 (Get off at Civil Aviation Hotel) ◇No.K901 Bus (Get on at Jinshui Road Dongming Road station/Get off at West Third Ring Road Xiliuhu station) ◇No.B2 Bus (Get on at West Third Ring Road Xiliuhu station/Get off at Hehuan Street station). Or Suburban line (Get on at Xinzheng Airport station/Get off at South Fourth Ring station) ◇Metro Line 2 (Get on at South Fourth Ring station/Get off at Guanhutun station) ◇No.B2 Bus (Get on at Huayuan Road station/Get off at Hehuan Street station)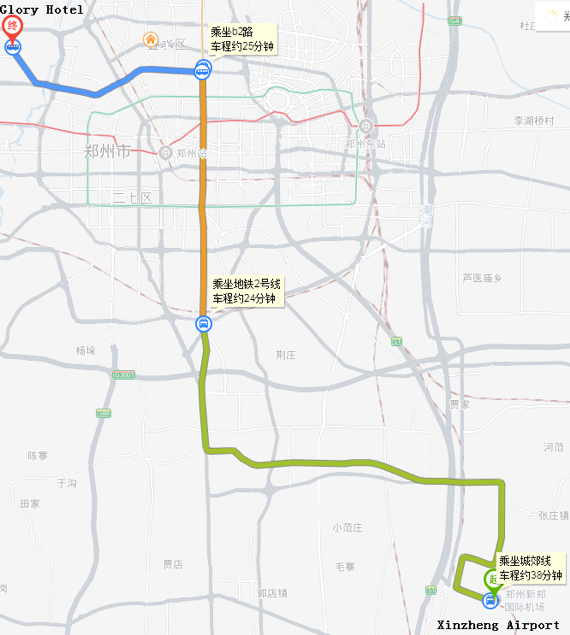 从新郑机场到光华大酒店路线图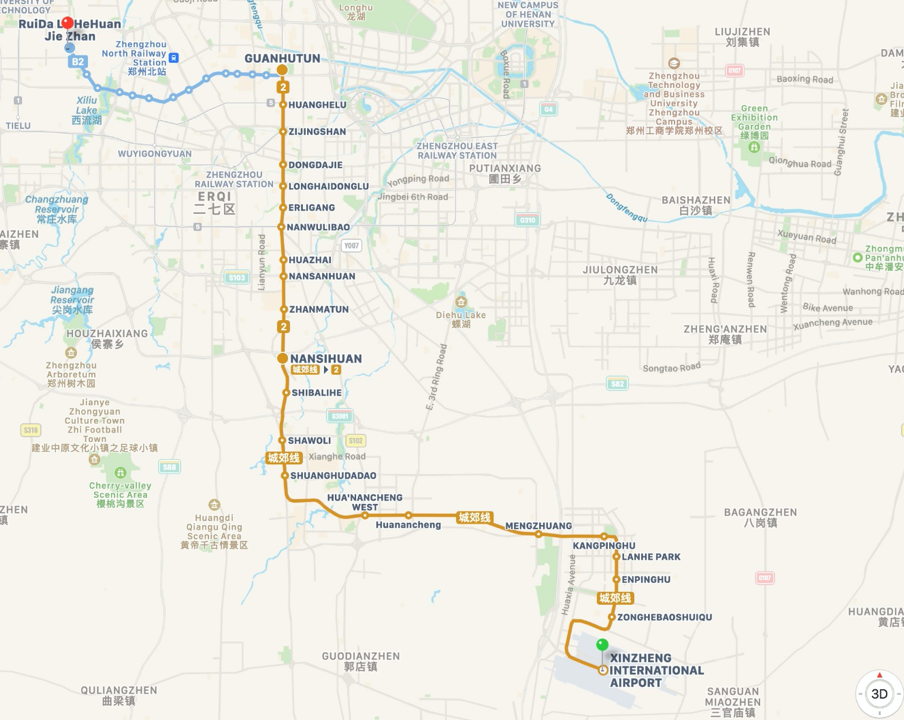 Map for route from Xinzheng Airport to Glory Hotel
From Zhengzhou East Railway station to Glory hotel is about 25 km, taxi fare is around 60 RMB, Public traffic route: Metro Line 5 (Get on at Zhengzhou East Railway station/Get off at Wuyi Park station)◇No. B12 Bus (Get on at Tongbai Road Jianshe Road station/Get off at Hehuan Street station)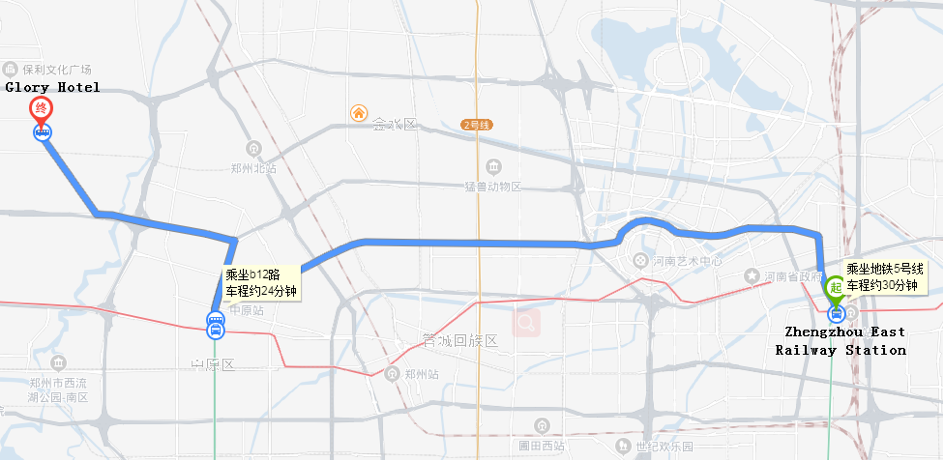 郑州东站到光华大酒店路线图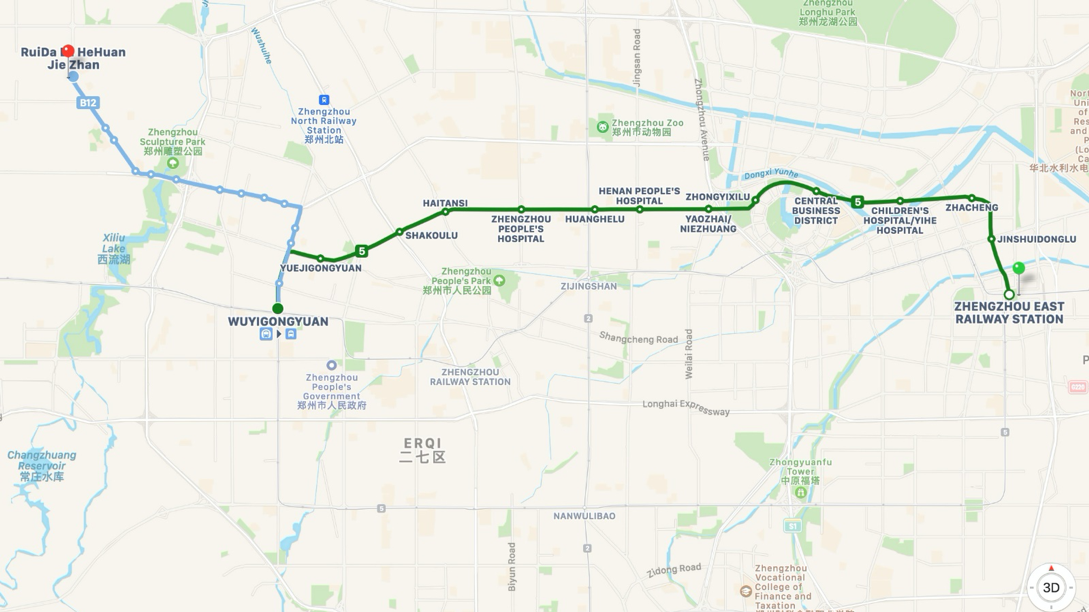 Map for route from Zhengzhou East Railway station to Glory Hotel
From Zhengzhou Railway station to Glory hotel is about 14 km, taxi fare is around 30 RMB, Public traffic route: No. B2 Bus (Get on at Beigangwan station/Get off at Hehuan Street station)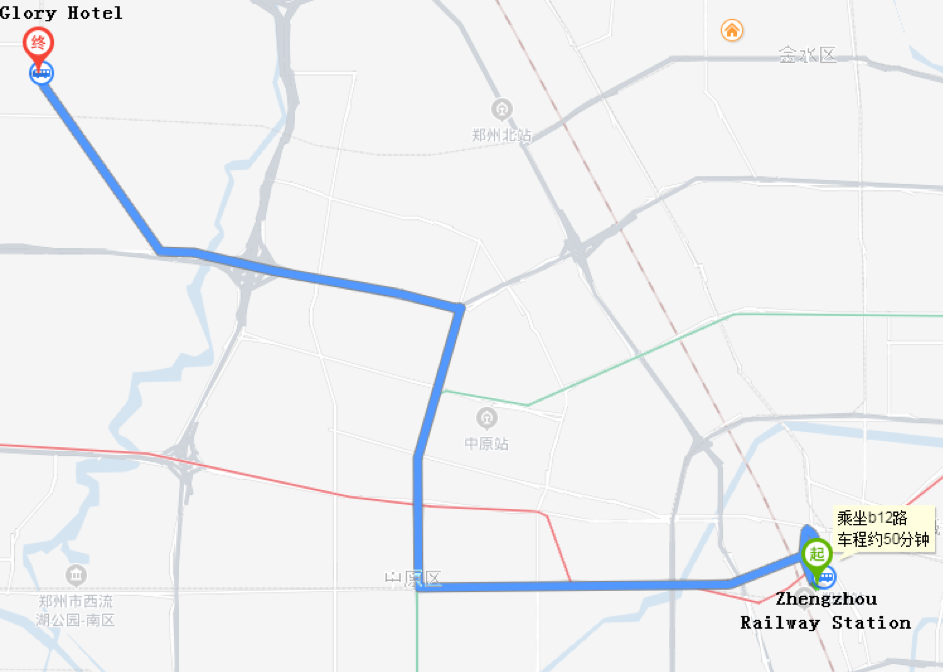 郑州火车站到光华大酒店路线图
Map for route from Zhengzhou Railway station to Glory Hotel